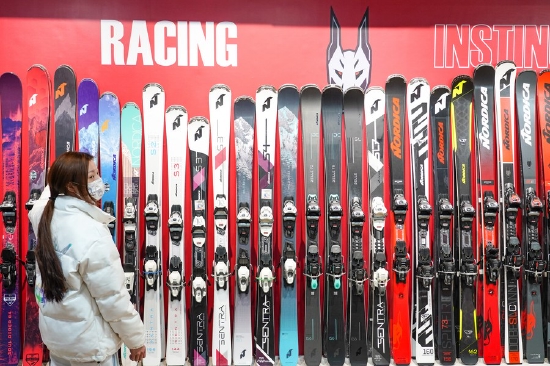 A staff member arranges skis at sports brand Nordica store in Beijing, capital of China, Jan. 6, 2022.(Xinhua/Chen Zhonghao)
BEIJING, Feb. 23 (Xinhua) -- Despite the curtains closing on the Beijing 2022 Winter Olympics, the event has opened up a new vista for the Chinese market that might potentially reshape the world's ice and snow industry, as hundreds of millions of Chinese have developed a "crush" on winter sports and foreign investors are eager to pitch in.
TechnoAlpin Snow Making Equipment, a world-leading company in snow-making, has benefited from the Games as a major supplier of snow-making equipment, systems and related technical services to the competition venues.
"The privilege of supporting such high-end ice and snow events has been a great boost to our effectiveness and reputation," said Florian Hajzeri, general manager of the firm, noting that the Games provides "the most comprehensive and widest" opportunity for the company.
The passion ignited by the Games has stimulated unparalleled zeal for winter sports in the country. Zhou Xing, PwC China Sports Industry Leader, commended that ice and snow sports are among the hottest topics in China's society and have been carried out in over 30 provincial-level regions on the Chinese mainland.
"Driven by the Beijing Winter Olympics, business opportunities in China's ice and snow sports market have accelerated and become a 'blue ocean' in the eyes of foreign brands," said Wang Lei, snow market director of POMA Beijing Ropeway Co., Ltd.
"The number of participants in ice and snow sports in China has reached 346 million, and the participation rate of residents has reached 24.56 percent, which strengthened our confidence in the ice and snow industry," Wang said.
OPPORTUNITIES IN ICE, SNOW INDUSTRY
Industry data showed that the number of ski resorts in China rose from 568 in 2015 to 770 in 2019, and is expected to top 1,000 this year, nearly doubling in seven years.
"China has built a lot of new ski resorts in recent years, and no other country in the world has done this at the same scale and quantity," said Hajzeri, adding that the company will seek opportunities to work with Chinese ski resorts in infrastructure maintenance and system upgrade.
"The ice and snow industry experienced rapid development before the Winter Olympic Games, and now it has turned to high-quality development," Wang said, noting that not only outdoor ski resorts, but also indoor ski resorts, snow parks and professional ski resorts will be developed in the future, which means more possibilities in the industry.
In addition to the fast expansion of ice and snow venues, Olympic fervor also triggered mounting demand for ice and snow sportswear, with multiple trending topics spread on social media since the opening of the Games.
"There will be an important share of consumers looking for high-quality garments which are able to combine the best performance with a fashion twist," said Stefano Colombo, marketing and sales director of Colmar, an Italian sportswear manufacturer specializing in ski wear.
Colombo also predicted that fierce competition will exist in China's ice and snow market in the future.
Eyeing trillion-yuan-level growth potential of China's ice and snow market, Zhou said investments will involve the whole ice and snow industrial chain, highlighting a wide range of opportunities in the fields of venues, garment and equipment, machinery, merchandise manufacturing as well as training and performance.
Remigio Brunelli, managing director of Beijing Tecnica Sport Equipment Co., Ltd., also welcomed China's move to build industrial clusters to promote the synergy of various sectors in the ice and snow industry.
Talking about the plan to build a belt region that integrates sports, culture and tourism industries of Beijing and Zhangjiakou, he said, "The program for the development of sport, culture and post-Olympics tourism is the confirmation of how great business opportunities will follow after the Winter Olympics."
FUTURE OF GREEN TECHNOLOGY
The Water Cube used in the 2008 Summer Games is now the Ice Cube. The venue was used for curling, and due to a convertible support structure and a removable ice-making system, leaving the swimming pool intact.
This transformation mode can highly reduce the reconstruction cost and slice carbon emissions generated by a new-established stadium, said Li Sen, director-general of the general planning department of Beijing 2022 Organizing Committee.
Technology has played an important role in realizing the transformation of the Olympic venue and is expected to reshape the sports industry and bring more benefits for market players, according to industry insiders.
"Technology innovation will be an important force to drive the high-quality development of the ice and snow industry," said Zhou from PwC, expecting a deeper integration between the sector and digital technologies.
Ice and snow enterprises can develop more digital products such as wearable intelligent equipment and big data platform, build digital application scenarios, and expand new forms of business related to cloud fitness, online training and virtual sports, Zhou noted.
Green technologies have been put on high agenda for suppliers of the Games. For example, Italian snow groomer manufacturer PRINOTH has equipped their vehicles for the competition venues with a cutting-edge system to help increase efficiency, save cost and optimize performance for ski resorts.
"The opportunities for foreign companies are endless in sustainable development, from water recycling to clean and renewable energy to solar and wind electricity," said Brunelli, expecting some projects built for the Olympics to gain a higher market cap in China amid its carbon neutrality goal.
"Olympic Games put China under the spotlight. It's important to show and concretely see the commitment to pursue sustainability not only in the ice and snow industry but in all the different sectors," said Colombo, adding that China has the potential to be one of the leading economies in the pursuit of sustainable development.
Investors have taken a shine to the technology-driven boom in the sports industry and beyond. "Technology plus sports is a particularly hot track, and those technologies related to sports can also be applicable to a wider range of scenarios," said Zhou, referring to compelling investment opportunities.
Eyeing China's vast market prospects, PwC has released a plan to invest 8 billion yuan (about 1.3 billion U.S. dollars) in China in the next five years, with priorities in digital redesign, digital products and solutions, sustainable development, regional economic clusters and future workforce.
"We will rapidly expand the use of emerging technologies, and extend all services to meet the complex challenges facing businesses and society," said Thomas Leung, PwC China Markets Managing Partner.